Get Directions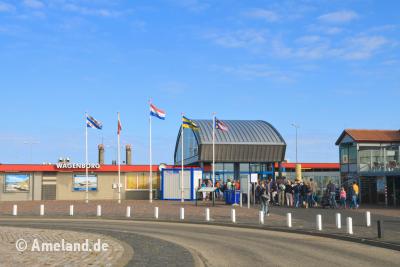 A ferry sails several times a day, 365 days per year between Ameland and Holwerd. This ferry line is provided by the private company Wagenborg. The boat trip, on the comfortable and modern ferries, lasts approximately 45 minutes.
Address ferry port: Grândyk 2a, 9151 AE Holwerd.
You can find the exact departure times, latest changes, rates, online ferry tickets and more information on the website of the shipping company: http://www.wpd.nl/
Transportation on Ameland
There are various ways to travel to your accommodation.
- Walking, some accommodations are within walking distance of the ferry
- Cycling, the bike rental shops are located in the village where the ferry docks.
- There are buses or taxis on hand each time the ferry docks.
Ameland bus service
When the ferry arrives or departs, the bus is always on hand and will take you everywhere. Tickets can be purchased at the Tourist Information Office and/or in the bus. The timetable is available at the Tourist Information Office and at every bus stop. The bus timetable is also online available.
Public Transport to Ameland
As the times and routes regularly (temporary) change, we always recommend to use the website http://www.9292.nl/. Through this website you always have the correct date and time of date that you have planed to using public transport. You'll also get direct information about the price, the total travel time, connection points, transfer times, etc.
Nearest train station to Ameland
Railway station Leeuwarden
Stationsplein 1
8911 AC Leeuwarden
web. http://www.ns.nl/
Just outside the train station you can take the Bus towards Ameland. For exact times and routes we always recommend to use the website http://9292.nl/en/.
Route
If you want to determine the exact route from your own street to Ameland? Please it could fill. The form below.
Simply fill in your departure address and then press "Calculate Route". Then your route will be calculated. This may take a few seconds. Next you can just print the route.