Waddenhop-boot De Zeehond
Aan boord van Robbenboot de "Zeehond" zeehonden kijken op de waddenzee. Het in 1996 in de vaart gebrachte passagiersschip "Zeehond" heeft een ruime en warm aangeklede salon waar een gemoedelijke sfeer heerst en waar u ook bij minder mooi weer door de grote panoramaruiten vanaf iedere plaats een riant uitzicht over het wad heeft. Het royale ...
Seal tours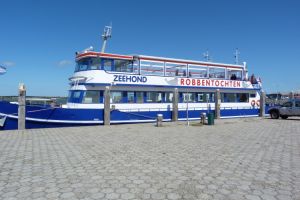 Along the way the skipper will tell you what causes the tidal movements, and keeps you informed of what else is there to see. When the seal island is closely approached it's announced that there has to be silence on board, and even the engines will run with less noise in order to see the seals from up ...