Swimming Pool de Golfslag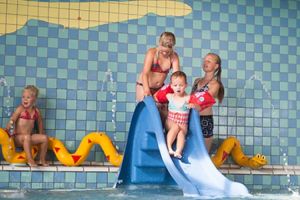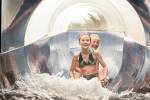 Swimming pool "de Golfslag" is on holiday park Klein Vaarwater on Ameland. It is accessible for everyone , not only for the guests of the park.
The swimming pool has a recreation bath of 25 meters and a paddling pool. There is also a waterslide of 40 meters is long, these end up in separate pool. In the summer period you can use the outside terrace. The entry coins are available at the reception of Klein Vaarwater and at the reception of "de Golfslag".
Furthermore Swimming Pool de Golfslag is near the following sights: Agricultural and beachcombers museum Swartwoude (±850 m), Amelander Meervalkwekerij (±1,0 km), Natuurcentrum (±2,1 km), Corn Mill De Phenix (±2,1 km) & Marina 't Leyegat Ameland (±2,6 km).
For information:
Zwembad de Golfslag
Klein Vaarwaterweg 14, Buren, Ameland
tel. +31 519 542 156
web.
Website
Location