Marina 't Leyegat Ameland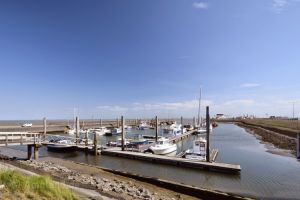 This marina is located around the former old dock, on the east side of the ferry jetty. The marina is open from the 1st of April till the 1st of November. It is a tidal harbor, and the tidal range averages about 2.25 m here. At high tide the harbor has (avg.1,00 sea level) has an average depth in the basin and around the Jetty of 4 meters. During low tide (avg. 1,25- sea level) there is an average dept of 2 - 2.5 meters in the marina.
The harbor is accessible to yachts with a dept of 2 meters: around 2 and a half hours before, until two hours after high tide. The floating jetty is the long dock in the middle of the harbor. You can moor on the east side, the west side is designated for berth holders. The two shorter docks are for the smaller boats of the local water sports association. On the northeastern corner of the harbor is a boat ramp.
The jetty is for larger boats, on the east and south sides are berths for charters.
When coming or going to the marina you must take into account the departing and arriving ferries from the adjacent jetty. The ferry service to Ameland is maintained by the two ferry boats Sier and Oerd. The ferry leaves on the half hour (from 6:30 am, every two hours until 6.30 pm), and due to the limited maneuverability in the channel you ought to keep this in mind.
Furthermore Marina 't Leyegat Ameland is near the following sights: Waddenhop-boot De Zeehond (±500 m), Corn Mill De Phenix (±1,1 km), Natuurcentrum (±1,4 km), Agricultural and beachcombers museum Swartwoude (±1,8 km) & Swimming Pool de Golfslag (±2,6 km).
For information:
Oude Steiger 3, NES AMELAND
tel. 051 954 215 9
web.
Website
Location