Lighthouse Bornrif Ameland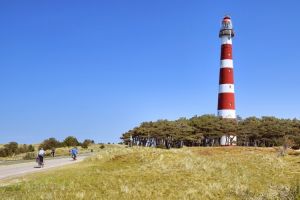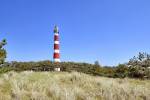 Bornrif is the unofficial name of the lighthouse at Hollum in Ameland. The lighthouse was built in 1880, commissioned by King William III. After World War II there was a new, less bright, light on the tower. This tower then got the nickname: twilight lamp. In 1952, a new stronger light was placed, this light is 4,400,000 candlepower.
The lighthouse is 55 meters high and has 15 floors and the staircase has 236 steps. The opticle is from the former lighthouse Ouddorp.
It is possible to visit the lighthouse.
Characteristic
Name: Bornif
Built: 1880
Tower height: 55,3 m
Light height (above sea level): 58,0 m
Floors: 15
Stair treads: 236
Manned: Yes
Open to the public: ja
Furthermore Lighthouse Bornrif Ameland is near the following sights: Wellness & Beauty Boomhiemke (±800 m), Golf course Ameland (±1,0 km), Rescue Museum Abraham Fock (±1,0 km), Corn and mustard mill De Verwachting (±1,1 km) & Cultural and historical museum Sorgdrager (±1,6 km).
For information:
Oranjeweg, Hollum, Ameland