Wellness & Beauty Boomhiemke - Wellness center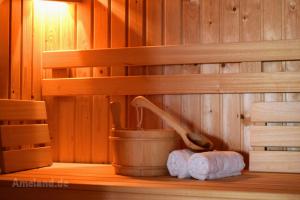 Voor een dag vol ontspanning zit je bij ons op de goede plek. We zijn gevestigd op misschien wel het mooiste stuk van Ameland. Aan de voet van de Hollumerduinen en direct naast het natuurgebied Jan Roepesheide. Daar wil iedereen toch tot rust komen!
Zodra je bij ons binnen bent, kom je terecht in een oase van rust. Laat alles even los in onze moderne en sfeervolle sauna. Word in de watten gelegd tijdens een van onze beautybehandelingen of massages. Of neem een relaxend stoombad. Genoeg ontspannende mogelijkheden om uit te kiezen.
Furthermore Wellness & Beauty Boomhiemke is near the following sights: Golf course Ameland (±400 m), Lighthouse Bornrif Ameland (±800 m), Rescue Museum Abraham Fock (±800 m), Corn and mustard mill De Verwachting (±1,2 km) & Seal tours (±1,3 km).
For information:
Jan Roepespad 4, Hollum, Ameland
tel. +31 519 555 158
web.
More information