Seal tours - Rondvaart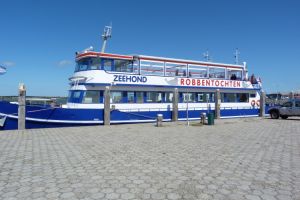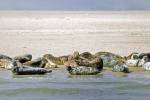 Along the way the skipper will tell you what causes the tidal movements, and keeps you informed of what else is there to see.
When the seal island is closely approached it's announced that there has to be silence on board, and even the engines will run with less noise in order to see the seals from up close. After this beautiful moment the estuary is crossed so you have an amazing view of the east side of Terschelling and the North Sea.
Once you arrive at the western point of Ameland you go passed the beach of Hollum, which gives you a unique sight of the village. On the return trip you will see the island from a whole different angle, and the skipper will tell you about historical facts. During a trip to the seal sandbank including an outing to the shell sandbank, at some point the bow of the ship is run against the steep side of the sandbank where enormous amounts of sea shells are lying around. On the front deck, a ladder is brought down for those who prefer to get off the boat for half an hour to take a walk over the dried up sea bottom and to collect shells.
After this outing you go back to the harbor again, and this unique and very interesting boat trip which is a must for anyone whose vacation on Ameland has come to an end.
It is not possible to reserve tickets by phone. You'll need to buy them during your stay on Ameland at the Tourist Office in Nes and Hollum.
Furthermore Seal tours is near the following sights: Cultural and historical museum Sorgdrager (±200 m), Rescue Museum Abraham Fock (±650 m), Corn and mustard mill De Verwachting (±750 m), Golf course Ameland (±1,0 km) & Pietje Miedeweg (±1,3 km).
For information:
Robbenboot
Kêkelburen 3, Hollum-Ameland
tel. +31 519 554 600
web.
Website